Powered by Air & a transparent shaft w/o mechanics
Air-driven home lift. No cables or pistons. Also known as The Tube Elevator
Capacity
1-2 persons / Wheelchair
Door configurations
Single Entry, Through Car
We are the world's ONLY air-driven home elevators
The Air vacuum home elevator is a relatively new technology that uses very little power to operate.
The home lift requires minimal space and installation time and can be fitted to most buildings either as new or as a retrofit.
The pneumatic vacuum elevator allows the user to seamlessly move between floors with the bonus of a 360-degree panoramic view through the transparent polycarbonate car and cylinder walls.
This personal home lift is available in three models: single person uses, up to three people or wheelchair users with an attendant.
How does it work?
Changes in air pressure allow the vacuum lift to move up and down. The car travels in response to changes in air pressure on top of and under the cab. As the lift descends the air pressure below the cab is reduced, whilst the air pressure above is increased. The reverse occurs for the lift to ascend.
3d Version of Air Elevator from Omnia
No pit excavation, hoist-way, or machine room required. Installation within one to three days
Two to five stops for residential, and stage applications [50ft. (15m) total rise]
Ideal for new and existing homes due to the minimal footprint required to accommodate the structure
Self-supporting structure – the elevator is capable of freestanding on any level ground surface
Green Elevator – minimal energy consumption required during ascent and no energy necessary for descent
Modern design allows 360º visibility without cables or pistons to block vision
Minimal maintenance – no lubricants or regular service required
Absolute safety – in the event of a power failure, the elevator cab automatically descends to the lowest level and the electromechanical door opens to allow passengers to exit
220Volt single phase service required for elevator operation and all cabin electric circuits are 24 volts
Extremely smooth starting and stopping operations
ASME A17.7 Code Compliance Certified
Machinery Directive 2006/ 42EC Certified Components
Types Of Air Vacuum Elevator
Air 30
Single passenger elevator
159kg / 350lbs lift capacity
External cylinder diameter: (750mm / 30 inches)
9m / 30 ft per minute travelling speed
Aluminum & polycarbonate structure
Automatic interior LED lighting & fan
In-line door openings
Air 37
Two passenger elevator
205kg / 450lbs lift capacity
External cylinder diameter: (950mm / 37inches)
9m / 30 ft per minute travelling speed
Aluminum & polycarbonate structure
Automatic interior LED lighting and fan
Air 52
Three passenger elevator
Wheelchair accessible
238kg / 525lbs lift capacity
External cylinder diameter: 134cm / 52 11/16 inches
6m / 20ft travelling speed
Aluminum & polycarbonate structure
Auto interior LED lighting & fan
Yacht / Marine Elevators
Absolute Safety
Space-saving elevator for flexibility
Rests on Existing Ground Floor
Plug & Play Elevators Require No Harmful Oils
Elegant Design Offers 360° Visibility While Traveling
Pre-Assembled & Safety Tested
Design
Panoramic and Round. The perfect fit
for any home decor
Vacuum technology
AIR driven home lift.
No cables or pistons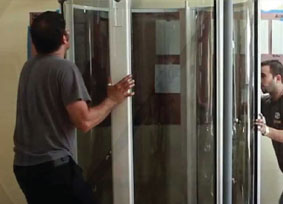 Installation
Self-supporting structure. Installed in as little as one to two days
Plug & play
220v Single Phase
Minimum construction
Modular design for a quick
and clean installation
No pit required
Installed directly on the finished floor
Options & upgrades
cabin phone | cabin key lock | foldable car seat
The air vacuum elevator consists of 3 major components – the exterior cylinder, the elevator car and the suction assembly.
Exterior assembly – a smooth transparent vertical cylinder made of polycarbonate and aluminium frame that can be installed almost anywhere.
Elevator car – runs inside the cylinder on rails or columns which form part of the same self supporting structure of the cylinder. The walls of the car are also made of transparent polycarbonate panels. The car is equipped with an anchoring system that activates on reaching the indicated floor.
Suction Assembly – located on the top of the cylinder. Houses the turbine engines, valves, and the PVE control board.
Technical specifications


A closer look at a few of our Air home lift projects.
our Air home lift range will integrate seamlessly with almost any residential space, without extensive requirements. check out some of our exclusive installations and get inspired!.