Home Lift Prices in Australia
A home elevator or also known as a home lift is a great long-term investment that allows you to access all rooms without encountering stairs.

But what's the cost of such an item?
Whether it be for luxury or practical purposes, there are many different types and prices available when looking into buying your own lift.
If you are looking to buy a home lift for your house, the question of how much it costs is probably front of mind.
There's no hard and fast rule when it comes to cost as there are variables that can affect pricing: model, location, size/height, finishes, etc.
As such we have separated into the key requests to select from:
See actual lift installation in Canberra ACT. The Linea lift is perfect for people with heavy items to carry as well as those who have mobility problems. It has a capacity of up to 400kg and stops on three floors, each floor having four downlights that provide illumination in the cabin ceiling. The wood flooring completes this luxurious look.
Best residential lifts for new homes:
Value option:  Linea Hydraulic with Swing Doors
Prices start at

$38,000 +GST
Linea lift with hydraulic drive with swing doors is a well-proven design that has a reduced amount of components vs a traction model. They can be both compact or larger to suit your preference. Your architect or builder would simply create a 4x sided vertical space for the lift (Called a shaft) with one of the walls being structurally suitable (Either solid masonry or 2x steel beams) for the lift drive to be installed.
With a budget-friendly price tag, the Hydraulic model offers value for money and is easy to keep in great condition long into the future.
Premium option: Linea Gearless with Sliding Doors

Prices start at

$48,000 +GST
Actual home lift installation in Bellevue Hill, New South Wales
Linea lift with a Gearless traction drive and automatic sliding doors provides unrivalled energy efficiency and ride quality via a VVVF controlled Gearless drive system. Being a Gearless drive type it has no gearbox as seen on other residential lifts in the Australian market which consume extra power and create an extra point of maintenance.
Gearless motors are the same design and type that you would find in high-speed high-rise lifts that are required to run 24 hours, 7 days a week. Lifts of this type need the ultimate longevity and power efficiency.
The same as a hydraulic lift model, an architect or builder would provide vertical space for the lift to be installed into called a shaft.
Best residential lifts for existing homes:
Value option: Flex-E
Prices start at
$39,000 +GST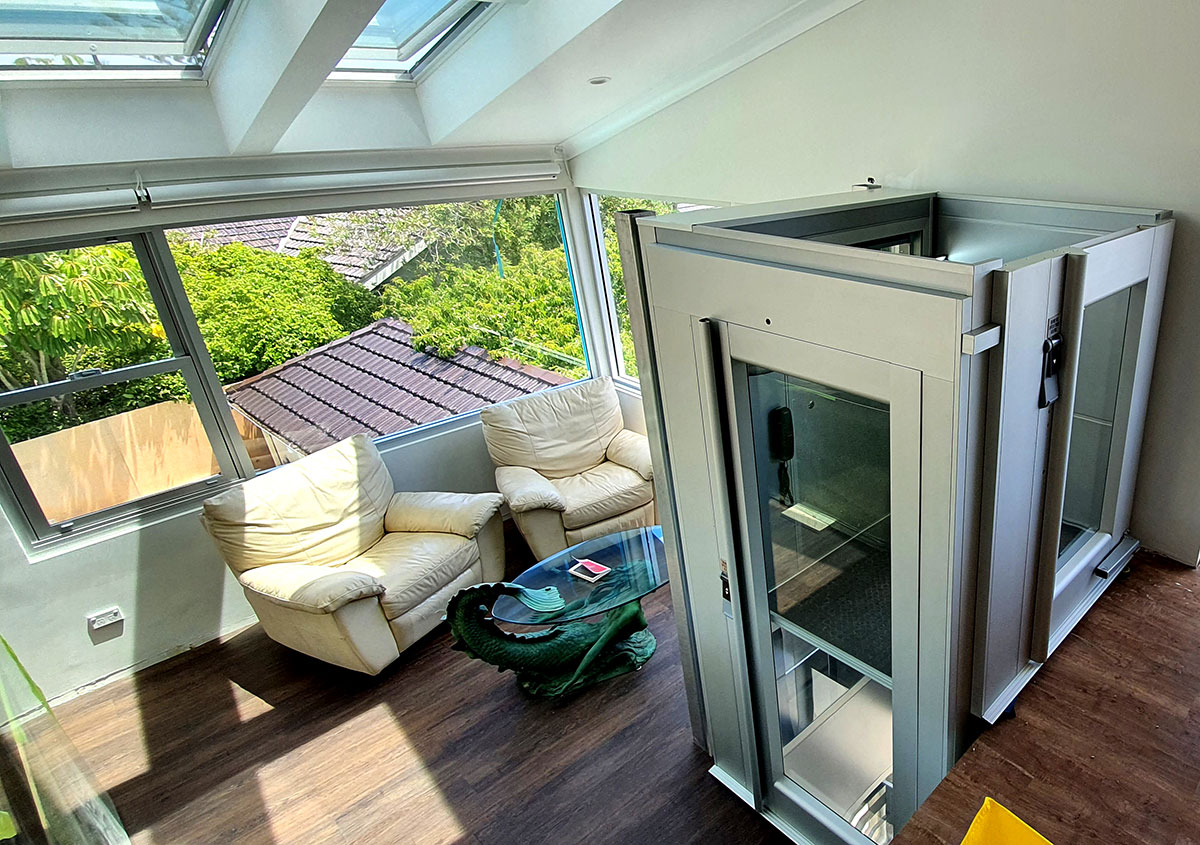 Flex-E home lift range is a highly adaptable model which is suited to existing homes due its easy to install design.
The lift model can be designed to the space available from a
compact size one-person size of 860 x 960
up to a larger five-person/wheelchair capable size of 1460 x 1540mm.
Another drawcard is that the Flex-E model includes its shaft which can be ordered with panoramic glass sides and also with your preference in hundreds of colours.
The shaft features mostly aluminium construction which is lightweight and can generally be placed directly onto an existing floor.
An additional benefit is that in most cases this removes the need for excavation or setdowns for lift pits that can increase the builder's works and disturbing your current slab.
The versatility of doors is a highlight. You can select to placed on up to three of the sides, at any height, left or right hinged and also unique sizings.
For situations with low ceiling heights at the top or if you are looking to minimize the appearance, an 1100mm half top gate option is available at the top level.
Our competitive advantage over other home lift providers.
Safer ( Don't risk having a home lift with just supporting rails!)
Longer lifespan/durable as a commercial lift,
Quicker
Stronger capacity (400kg),
Larger – Full 1100×1400 platform
Different door sides are available
Smaller pit (Other providers has a 100mm ramp in their lift car entry so hard for wheelchair users to roll-in)
Can be colored matched (Extra cost)
Looks stylish and modern adding better value to your home.
Can be custom sized if required, (Extra cost)
Premium option: Linea Gearless with Glass Structure by Direct Lifts
Prices start at
$65,000 +GST
Linea Gearless elevator with the optional glass structure (shaft) can be an ideal solution for an owner wanting a commercial-grade quality and features within a residential environment. A glass structure can exhibit the inner workings of the Italian-designed drive system to become a showpiece of any high-end home.
The Linea model is versatile in being able to be fitted in three ways:
Shaft by builder

Structure by Direct Lifts ready to be enclosed by the builder

Structure with glass or another panel by Direct Lifts to provide a finished product.
The latter two options with structures can be ideal for retrofitting into existing homes as it decreases the number of builders works substantially. In some cases, there won't be a need for any builder's works.
Best residential selections for round lifts:
Value option:  PVE 30
Prices start at
$55,000 +GST
The Air vacuum home elevator is now a proven technology that uses a minimal footprint to install.
Click here to view the Air Home Lift in 3D
The pneumatic vacuum elevator allows the user to seamlessly move between floors with the bonus of an unobstructed 360-degree view!
This personal home lift is available in three models:
30 inch – 1 Person
37 inch – 2 person
52 inch – 3 person
No pits are required so an easy to install option for new and existing homes.
Premium Option: Giotto
Prices: Made to order so pricing can vary. Contact us to discuss.
Giotto circular elevator with glass structure is a proven feature piece of the premier residences within Europe and now it is available to Australia.
Each Giotto lift is tailor-made to your preference in sizes, door types, and finishes to suit the project's décor and requirements.
With the bespoke design, each lift's price would vary.
Direct Lifts is an Australian-owned and operated company

that has sourced the most innovative residential lift range in Australia.

Did you want to compare lifts specifications? See complete home lifts summary.
If you are looking for other lifts, we have commercial lifts, wheelchair lifts, and stairlifts to choose from.
Our company mission – "Lifts that last" is represented in all aspects of our lift range to ensure you have a quality product that not only is aesthetically pleasing but will work long into the future via the components being sourced from the world's best-known suppliers.